After 32 years, my garden is still a work in progress. With seven 40-50 year old oak and pecan trees, it is primarily a shade garden. I started gardening seriously about 15 years old and the "lawn" of mowed weeds keeps shrinking as the flowerbeds grow to accommodate maturing plants. My husband and I have done the stone and brickwork ourselves and the front terrace is still waiting to be filled with plants.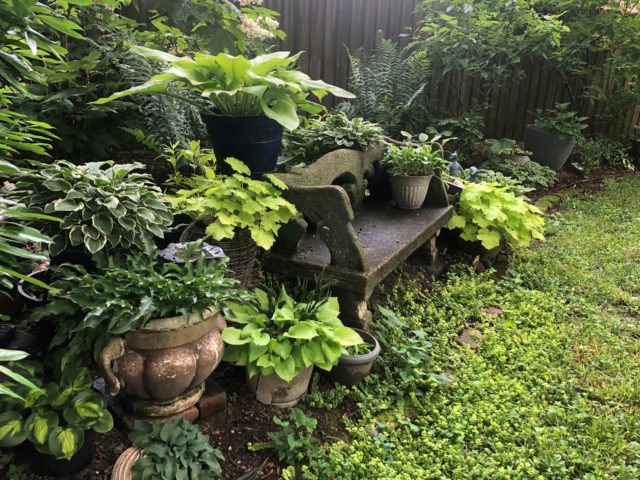 Homeowners: Virginia Goodwin-Gray
Address: Falkirk Road
Neighborhood: Scenic Hills
Garden Age: 32 years
Plants:
Trees: Oak, Pecan, Redbud, Fig, Japanese Maple
Shrubs: Abelia, Azaleas, Beautyberry, Bottlebrush buckeye, Butterfly bush, Calycanthus, Cherry laurel, Cleyera, Deciduous Holly, Hydrangeas (25 varieties – arborescens, macrophylla, paniculata, quercifolia), Nandina, Lilac, Native azaleas, Virginia Sweetspire
Vines: Clematis, Climbing hydrangea, Birdsfoot ivy
Perennials: Ajuga, Arum italicum, Astilbe, Geraniums, Helebore, Heuchera, Hosta (numerous varieties), Peony, Purple coneflower, Sage (autumn & blue), Strawberry begonia, Wild violets, Wild ginger, Daffodils, Daylilies, Ferns (evergreen & deciduous), Iris, Monkey grass, Nippon Lily, Variegated liriope
Garden Philosophy: A view from every window with lots of flowers and contrasting foliage but minimal maintenance.
Favorite Garden Tip :If you want less maintenance, select plants suited to the location where you will plant them and whose mature size you have room for.
Please click photo to enlarge and slide.