By Sharron Johnson
We are upon another winter season. Yeah, I know. Wow! This year is already over, so to speak. The leaves are falling at a feverish rate as of this writing, and all I can think about is next spring. During the winter, there are so many barren trees, few blooming plants, gray skies, shorter days and long nights. Just the lack of vitamin D is enough to make one shudder. The winter months are a perfect time to reflect and plan. Try keeping a garden journal. It helps you to keep all of your good intentions in prospective. I find planning keeps me optimistic about changes in the environment, community and the dirt. Thinking about the garden and garden-related subjects alone can chase away those winter blues just like a therapy session. For a journal, all you need is a note book, pen, and the inclination to develop garden rooms; even if it only makes it to paper. Plans are just that — plans. Plans can change with the stroke of a pen or the swipe of an eraser. While planning your garden design on paper you should first start with the bones of the garden, i.e., evergreens, shrubs and trees. The fall/winter months are ideal for planting the bones; only if the ground isn't frozen. The bones are the mainstay and you can add the fillers, such as colorful annuals like pansies and perennial Lenten rose to create a fuller look. The evergreens keep your landscape balanced and interesting during the doldrums of cold. Then, add your hardscape, such as wooden decks, brick paths and out buildings. In your journal, start adding each layer until you feel it could come to fruition. I encourage you to dream big. Look at it as dreams transferred to paper. Plans are the dreams that can develop into goals. The difference between dreams and goals is a timeline. So, if you've been telling yourself, "this is the year to start, finish, or redevelop the garden," give this task a due date. Plus, it's easier to redo garden mistakes on paper than to redo one in real time. Cheaper too.
The owners of the December-January yard of the month have created a garden that is like an onion. Onion? Yes, an onion. When you enter their space from the street, you can tell the garden was developed in layers. Just like peeling an onion, as you peel back each layer, your heart warms and you feel like you might well up. Not from a sad place, but from an enlightened place. Tender loving care has been incorporated into 2051 Evelyn.
When approaching the home of Jim Brasher and Laura Terry, arborvitae at each edge of the of the property lines are acting as foo dogs, aka, Chinese guardian lions. Not to make the garden sound uninviting; oh, contraire, just the opposite. Arborvitae is an evergreen that is native and easy to care for. These trees like wet conditions and can grow to 20 feet.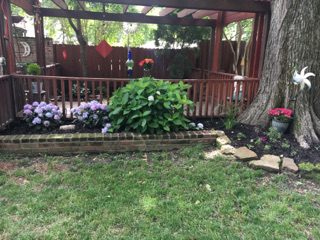 According to Better Homes and Garden magazine: "Native to North America, these rugged evergreen trees are often found growing in places where little else might. When early French settlers reached North America, they learned from Native Americans that these plants could be used to treat scurvy, a disease many of the sailors were suffering from. This is due to the high vitamin C content in young foliage, and it led it to the plant being named Arborvitae, which translates to 'tree of life.'"
Walking to the house from the street, one is enveloped with a densely planted parkway, filled to the gills with four massive crepe myrtles and Camilla shrubs. The homeowners may have had a premonition about corralling the plantings in that parkway and planned accordingly with a landscape timber wall. There is a Bermuda lawn on either side of a traditional straight entry sidewalk that leads to the front stoop of a red brick bungalow. This must have been one of the earlier bungalows in this section of CY, because it was built in 1912. At the stoop are two mature boxwoods on either side creating balance and harmony. A single cherry tree to the west side of the yard sits like a beret. The lawn is edged with a cast block retaining wall. It is three blocks tall and offers a passerby a stoop to rest. The two arborvitaes are sitting in a kidney shaped bed under planted with hosta and azaleas.
I'm led by Jim toward the back of the property, down the driveway that is the home to hydrangea, one right after another along the east fence line. Looking upward there are more massive crepe myrtles and cherry trees. I'm starting to notice a rhythm. We reach the wrought iron gate that separates the drive from the back garden. Passing through, we entered under a pergola atop a poured concrete patio. It is well equipped with a table seating for four. The comfy cushions are turquoise. A back drop between them and the neighbors is a brick wall that is reminiscent of a New Orleans courtyard. There is a second pergola that abuts a wider pergola that has created a second room. You can definitely sense an Asian feel because of the hanging lantern and a large Asian inspired wind chime. Brick planters are set up at the second entry housing Camilla. The second pergola is home to a bistro set with green cushions. Also, a water feature with a repurposed tower made from cobalt blue and green vases and planting beds with more hydrangea and hosta. A spinning wheel is perched on the fence waiting for any breeze that passes through. Another arborvitae and cherry anchor the enclosure. As we continue, in the back, east corner is a niche with a recycled concrete pad and another bistro set sporting green seats, and you guessed it, mature crepe myrtle. Are you sensing the rhythm now? The trees are all planted in a systematic pattern and the same types of plants are repeated, like a well-played sonata. We head to the west side of the garden and begin to tread on a Fescue lawn. In the center of the lawn is an old elm tree creating a shade to all the hydrangea that need it. A wooden porch swing painted yellow is in harmony with the blue and green decor. On the final leg of the tour is the west side of the lawn. There is a single flower bed that is shaded from two hackberry trees that are definitely volunteers, aren't they all? Gold dust bushes and a sweet metal sculpture of a peacock at rest enliven a fence line. I didn't even mention all of the art pieces distributed throughout their entire garden. A lovely, loved, and livable space has been planned and developed here.
Laura, where are the two of you from?
Jim is from Bruce, Mississippi. He got out of there as soon as possible for college and then a career as a musician. I was born and raised in Memphis; Midtown has always been my stomping ground, went to Vollentine, Snowden and Central.
Any siblings?
Jim has a younger brother and sister; his older brother died soon before our wedding in 2010. I have an older brother that lives in Berkeley, CA."
Tell us about your professions?
Jim supervises people that want to be Licensed Professional Counselors in Arkansas, Mississippi, and Tennessee. Jim is also a mental health therapist in Arkansas and Tennessee. I have had an eclectic resume for the past 2.5 years — from working the bakery at Stone Soup, spa coordinator at Gould's, office manager at a non-profit, and an interior designer.
Where and when did you two meet?
We met while taking a class at the University of Memphis in the 1990s when we were both pursuing our Master's degree in Rehabilitation Counseling. Jim noticed my loud energetic laugh, and I was touched by Jim's concern of my dad that was living in the Virgin Islands during Hurricane Andrew. After graduating we coincidentally worked at non-profit working with people that were homeless and had a mental health diagnosis. As soon as I saw Jim at my new workplace, I immediately felt safe. What started as a work friendship turned into a deep love for each other. We have been together for over 20 years.
When did you move into your home?
Jim moved to this house in 1981. I moved in 2008.
Why Cooper-Young?
Jim moved from Whitehaven to Cooper Young; he liked the feel of the neighborhood. Remember this was 1981 when Cooper-Young was not the "IT" place to live. Jim has tirelessly worked on the house, and I have had a blast adding artwork and special touches to our home. I was thrilled to be able to live in such a dynamic, friendly neighborhood.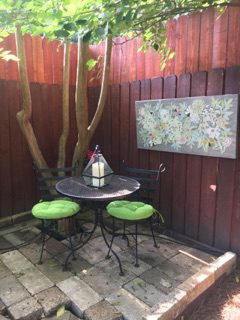 Tell us about what your garden was like when you moved in?
The yard was a mess — no plants, no structure. It had been neglected for years by the past owner. It was a blank slate for Jim's creativity. Jim hauled in eight pick-up loads of dirt to reshape and built a platform for the Pergola slab. He concreted the area, and then he built the pergola by hand including staining the wood. He fenced in the entire backyard with different levels of fencing for a secluded effect. He has recreated a New Orleans like courtyard by have a brick wall and installing a wrought iron fence. We have a fire pit to enjoy the backyard all year long. He planted perimeter trees throughout the yard.
What was your inspiration and describe your style.
Definitely an Asian influence to bring about calm, zen-like feel. We want an oasis — a respite from the world. Little reading spots, flower beds, unique art work, different and interesting plants in spaces. That spinning wheel was made by Eli Gold that built the beacon at Crosstown. My mom, Sara, and her partner Harry sponsored the Beacon and Eli made a mini-beacon as a thank you. Mom and Harry generously gave it to us for our garden.
Tell us about your pergola and your plant selections.
Jim: The pergola is influenced by Asian traditions obviously. It is a reflection on how I try to live my life with mindfulness. I wanted a calm private extension of the house.
Laura: Lots of hydrangeas and azaleas — fluffy flowery plants. We like plants that are evergreen; it brightens up the landscape during the winter. Our camellias are gorgeous and they bloom when it gets below 60 degrees. Such a bright spot during the dreary months.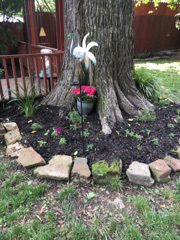 Have you two been gardening long?
Jim loves working in the outdoors. He has planted all the trees including cherry blossoms because they are my favorites. Jim planted those gorgeous crepe myrtles years ago that have formed a canopy over our sidewalk.
What are your passions and hobbies?
I love nesting at home reading a good book with all our animals around me. Jim is passionate about music, being outdoors, and working on home improvement projects. He also finds enjoyment from supervising counselors and providing therapy.
Any future plans for you garden and home?
We would like to build on to the back of our house to increase our space and add a new dimension to our home — lots of windows and a fireplace would be ideal.
What is the favorite part of your garden?
The pergola is such a fun spot to entertain and to enjoy. Sitting in the brick enclosed area with the fire pit. I really like the reading nook in the corner of the garden. The full lush plants are a joy to have.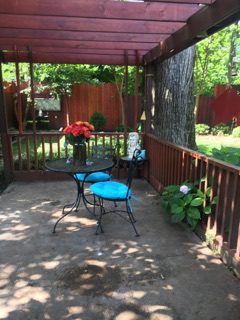 You were on the Cooper-Young Garden Walk. Let the reader know about your experience.
Ha! We were very conflicted about participating in the Garden Walk. We were flattered, but concerned due to the fact that we hardly have any plants in our backyard. The folks at Urban Earth (John) really helped us have a lush interesting garden. We are thrilled that we participated – so much fun to meet all the people, and we had such a sense of accomplishment.
If you had one wish for our community, what would it be and why?
We love that Cooper-Young continues to be a vibrant dynamic neighborhood while maintaining the integrity of the Mission style homes. The front porches emphasize community and connection.