By Sharron Johnson
The northeast quadrant of Cooper-Young was very active with new house building during the 1920's, aka, the Roaring Twenties. High employment and extravagant spending created a new era of housing stock fueled by returning veterans seeking different lifestyles in the new cities rather than in the country. Cooper-Young was easing into a suburban situation with its Craftsman bungalows commandeering lot after lot and over shadowing the earlier Victorian style. As the car supplanted the streetcar and train as a primary mode of transportation, the houses reflected the change in lifestyle. Today, as you cruise through the neighborhood, you can tell what hoses belong to what era.
Our yard of the month is one of those included in the housing boom. Built in 1926, this home is almost a mirror reflection of its neighbors on any given street north of Young. The Craftsman bungalow is the canvas and backdrop for a botanical garden right here in Cooper Young. Can you imagine having our very own? Well, Tommy Langston has created such a place with moral support and help from partner Jimmy Thomason. It's located at 2260 Evelyn.
This garden received multiple nominations from neighbors, and duly so. When I pulled up to get a look at this work of love, I was convinced before I got up the sidewalk that it was going to be good.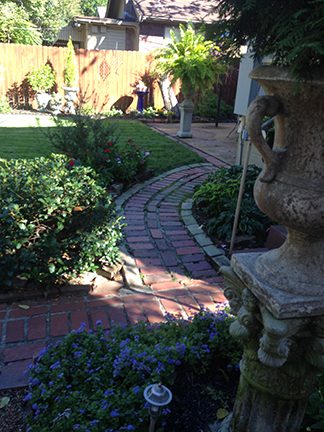 Situated on the north side of Evelyn, the front of the house receives full sun, feeding a glorious green zoysia lawn that is impeccably mowed and edged like a lush carpet. One is tempted to lie down to bask in the warm southern exposure. There is the typical sidewalk with a grass parkway and a new, wider concrete driveway, creating ample parking for a modern multi-car household as opposed to the one car envisioned when the residence was built.
The porch is accentuated at ground level with a stacked Arkansas field stone bed filled with a wide variety of plants, shrubs, and small ornamental trees. The layout is set up in small vignettes according to shapes, colors, and heights that continue throughout the bed. Cut leaf Japanese maple, Japanese weeping willow, boxwoods, camellia, creeping juniper, and hawthorns are used throughout the front bed. One concrete urn is home for a spiral cut evergreen perched amongst other plants. It is strategically placed under a triple bank of windows. The porch and underpinning of this bungalow are cast stone with a thick grout line. The two posts are perfectly scaled to the house size and are the same cast stone. The facade is brick and has been painted beige with a white trim. The homeowners are lucky to have porch ledges that encapsulate the porch. They create perches for two large concrete planters flanking a large concrete urn, creating prefect balance. These planters, plants, and decorations are changed seasonally. When you enter the porch, you are greeted by a large teacup rose that mingles nicely with annuals. The porch is decorated with red and yellow vintage chairs and a glider. Walls are adorned will sconces and plaques intended for indoor decor but not at all out of place in this setting. I am a huge fan of whimsy which this house has in abundance. The homeowners have attached a metal plaque near the door that reads, "On this site in 1897 nothing happened." I just fell in love with the property again.
We traipse around to the wooden gate, and then it happens: Angels and cherubs are fluttering about, but not literally. I step onto a field stone threshold flanked on both sides by beds edged in scalloped brick. It creates a natural flow into a seating area that is a sunken brick patio with cushy fabric furniture and an umbrella. Every creature comfort is there to invite settling in and catching a breath or a coffee. Potted plants create focal points at every turn of the brick path. The paths meander to and fro, taking the tourists on a journey of oohs and aahs at every stop.
There is another visiting spot at the back door for dining and food cooking. The center of the back space is another Zoysia lawn, with a statue water fountain — Hebe, the Greek Goddess — perched like a jewel in a crown. Hebe was the cupbearer for the gods, serving ambrosia and nectar. Here she is perched in front of a pergola that fills the back of the garden. In the pergola is another seating area well equipped with a wicker settee and matching chairs surrounded with lush planting.
Along the entire east fence are beds with a variety of plantings. The beds contain hosta, caladium, lilies, birds of paradise. and even a boxwood that is trimmed into a peacock named Shirley. Most striking is that the homeowners have added large mirrors throughout the fence rows to enhance and double the views.
Throughout the garden are a multitude of lush planted urns, vessels and pots that are all setup on a drip irrigation. That's what I'm talking about! No watering daily during the hot Mid-South summers for these guys. Definitely my next project at home. There are two Chinese trees on either end of the garden called tree of heaven or ailanthus altissima, literally meaning foul smelling tree, also dubbed the tree of hell. It is found in more temperate climates. They rarely live more than 50 years. Also, it is a host plant for the silk moth and is depicted in the novel, A Tree Grows in Brooklyn. Oh, I almost forgot the two-story chicken coop. Yep, chicken coop. Another unexpected delight. What a garden! I'm so thankful that I was invited to tour this botanical garden. If this was my garden I'd never get in the car that this house was built to accommodate.
Tell me a bit about yourselves. Where you two born and raised? From large families?
I was born in Union City, TN. Tommy was born in Madisonville, KY. My parents had three children. Tommy's parents had 11 children.
How long have y'all been together?
We've been together 18 yrs.
What are your occupations?
I am a real estate appraiser. Tommy owns a residential cleaning service and interior design firm called Langston Interiors (901-825-0244) and works as a load captain at FedEx.
What brought you to this house on Evelyn?
A neighbor told me about the house on Evelyn in 1999 when it first went on the market.
Tell us what the property looked like when you moved in?
The property was a disaster when I moved in. The house very dilapidated and the yard full of weeds. Definitely a fixer-upper.
Are any plants pass-alongs?
We do have a few pass-along plants.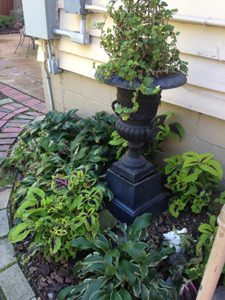 There are many potted plants in your garden. Any idea how many potted plants are in your garden?
Probably between 20 and 30 potted plants.
What or who inspires your garden design.
The garden design is 100% Tommy's creation. He just creates it from thin air.
Repurposed items are a hot trend in house and garden design. Share with us your repurposed moments.
We have re-purposed everything from broken flower pots to chicken wire. No major challenges that I can recall. Tommy won't create anything that he can't finish.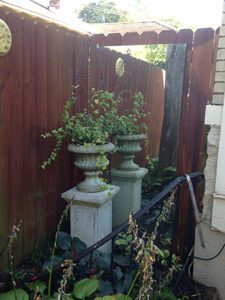 Chickens were added to your design. When did they arrive?
We first got chickens in 2015.
What is your favorite part and plant of your garden?
My favorite part is the shade garden.
If there was anything you could change in your garden, what would it be?
I can't think of one thing I would change.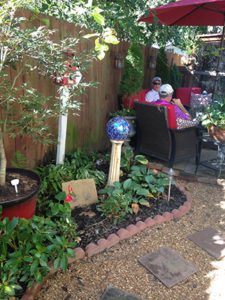 Fur babies, tell us about them.
We have three dogs — Rufus, Cricket, and Prissy. We have one cat, Bandit.
What are you two thankful for?
We are thankful that God has blessed us with good health and the ability to have all of the things we need and most of the things we want!